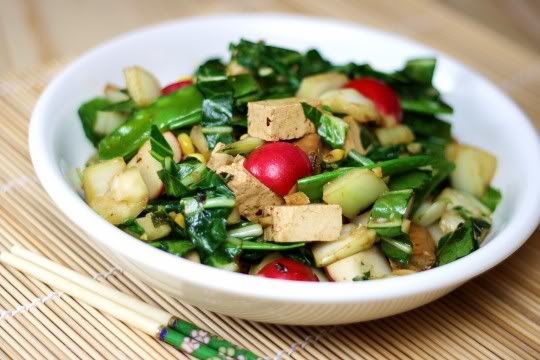 Spinach, Onion Tofu Stir fry cooking recipe
Ingredients:
2 Tablespoons Olive oil
7 Ounces Cubed Tofu
½ large Onion, sliced
¼ Cup Dry roasted peanuts
2 Teaspoons Dry Basil
2 Garlic Cloves
2 Tablespoons Soy sauce
½ Teaspoon Black pepper
1 Teaspoon red pepper
3-4 Cups chopped Fresh Spinach
Direction for Preparation of Spinach, Onion Tofu Stir fry:
Place the oil and tofu in a large frying pan and cook about 5 minutes on medium heat.
Add peanuts and onion and cook until onions are translucent.
Add garlic, basil, black pepper and red pepper and cook about 2 minutes.
Add the Soy sauce and Spinach and cook just until spinach is wilted.
Serve over rice.