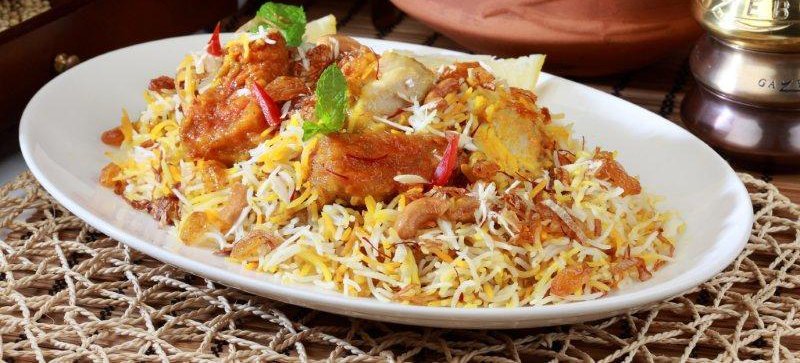 Fish Biryani Recipe
Ingredients
For Rice:
Ghee – 2 tbsp
Cardamom – 4 nos
Cinnamon – 4 sticks
Cloves – 4 nos
Pepper – 4 nos
Onion (Sliced) – ½ cup
Basmati rice – 3 cups
Boiled water – 6 cups
Salt – 2 tsp
For fish masala:
King fish or seer fish – ½ kg
Chilly powder – 1 tbsp
Turmeric powder – ½ tsp
Salt – 1 tsp
Oil – 1 cup
Onion (Sliced) – 3nos
Ginger-Garlic-Green chillies paste – 2 tbsp
Tomato (chopped) – 1 no
Garam masala powder – 1 tsp
Curd – 1 tbsp
Thick coconut milk – ¼ cup
Coriander leaves (Chopped) – 1 cup
Mint leaves (Chopped) – 2 tbsp
Ghee – 2 tbsp
For garnishing:
Cashew nuts (roasted)
Raisins (roasted)
Preparation method:
For preparing rice:
Heat ghee in a pan
Add cardamom, cinnamon, cloves and pepper. Stir them.
Add onions and fry for 5 min.
Add rice and stir for 5 min.
Pour boiled water along with salt and cook till it done.
For making fish masala:
Marinate fish pieces with chilly powder, turmeric powder and salt for 1 hr.
Fry the marinated fish pieces in oil.
Heat oil. Add sliced onions and fry on a low flame, till it becomes slightly brown.
On medium flame, add ginger-garlic-green chilly paste and tomato.
Stir it for 6 min.
Add garam masala powder, curd, coconut milk, coriander leaves & salt and stir it for 5 min.
Add fired fish pieces and reduce the flame.
Cook till it starts to boil.
For making Fish biryani:
Take a deep bottom vessel and layer rice and fish masala.
Pour 2 tbsp of ghee and tightly cover with a lid.
Keep it on a very low flame for 10 min.
Garnish with roasted nuts and raisins.
Note: You can use fish with not much bone like tuna, salmon, akoli etc.
You can use prawns or chicken instead of fish.