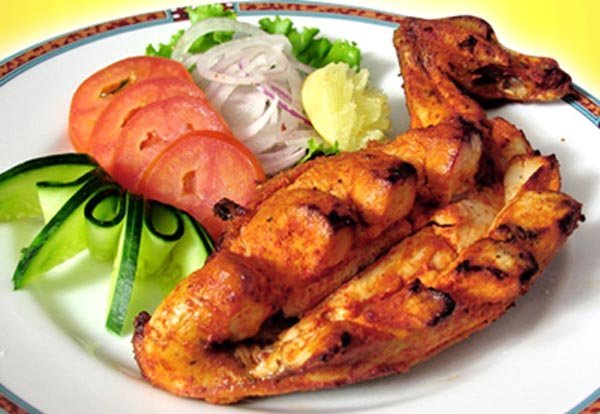 Chicken Tikka Cooking recipe
Ingredients
Boneless chicken 800 gms
Lemon juice 2 tbsp
Red chilly powder 1 tbsp
Red orange color (optional) – few drops
Curd/Yogurt 300 gms
Garlic paste 1 tbsp
Ginger paste 1 tbsp
Garam masala powder 1 tsp
Cumin powder ½ tsp
Butter – For basting
Salt – To taste
Method:
Cut chicken into small cubes, wash nicely and apply lemon juice and salt to it & leave it.
Whisk Curd/Yogurt in a bowl and add remaining all the ingredients except butter. Mix well and then keep the chicken pieces in this marinate for 3-4 hours in the refrigerator.
Put the chicken on to skewers and cook in moderately hot tandoor for about 6 to 8 minutes, baste the chicken pieces with butter and again put in to tandoor and until slightly colored & cooked.
Remove and serve hot sprinkled with chaat masala.